X. Template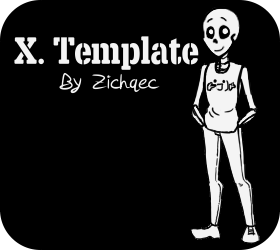 X. Template is a template ghost I made! It's intended for ghost developers who already know how ghosts work, generally. If you're new to making ghosts, I suggest Zarla's GT Template instead; it includes a walkthrough to get you started!
So, if you're not a new ghost dev, why should you use X. Template? Well, for one I'm sure you've noticed that once you don't need the walkthrough comments anymore, they're a hassle to get rid of. Haven't we all had the experience of trying to remove Triangle but he keeps popping up in unexpected places? X. Template starts you without those things. Here are some differences with X. Template.
Differences users will see
When installing a ghost with X. Template, you'll be offered the options to call or change to them in dialogue.
When checking emails, the ghost will offer to display the headers.
Automatic update checks are built in, and will notify the user if a new update is available.
The ghost will track when they were last closed, and comment if it's been a long time when you open them.
The ghost will say 'happy new year' as the year rolls over.
When changing shells, the ghost will stay in the same position on screen.
Right clicking the ghost will not cause their personal menu to open.
Changing name/birthday/pronouns will lead back to the config menu.
Offers a changelog after updating!
Hitting the ghost for the first time will pop up a confirmation dialogue, to prevent accidental punches.
You can type in the name of the month you were born instead of just the number.
Petting ghosts repeatedly without taking your mouse off of them will have special dialogue.
Config menu has toggle buttons, and also has options for hemisphere, and to opt in to beta updates.
There is no title system, since I never include it in my ghosts.
You can press Y to start commu dialogue with a random ghost.
Differences devs will see
Very few tutorial comments, all code is formatted consistently and has been cleaned up where possible.
A Kero is not present unless you add them in.
Uses the new seriko definition.
The test variable will only show up if the variable 'debug' is set to 1, hiding it from the user.
When 'debug' is set to 1, you can use the test variable by pressing V when the ghost is the active window.
When 'debug' is set to 1, you can press C to get a window for testing communication dialogues.
Sakurascript commands, such as those to open the calendar or set a wallpaper, have been separated from dialogue with --s. This makes it a bit easier to create ghosts with multiple modes, as you won't need to copy the commands into each line of dialogue.
All menu related envelopes are optimized and have been moved to word.dic.
Anchor.dic has been updated to allow https links as well as http.
Much fewer global variables, some variables have been changed to arrays, notably the birthday variables (bithday[0] to see the written birthday and birthday[1] to see it written DD/MM) and the passhour/min/sec variables (are now runtime[0], [1], and [2]).
Commu.dic should be ready to use, and offers a method of doing commu dialogue that is much more readable. From 1.0.3 onward, there is also a non-interrupting system so that the ghost will wait to respond to commu dialogues until it's not doing anything else, and a better loop prevention system that is less awkward!
You can have the template ghost check if there is a new version of the template.
Member of the Ukagaka/Ghost Development and Download webring
Previous
Random
Next